RX18
5-axis machining center
Combined milling and turning
With the spindle clamping and the optional rotary table, workpieces can be turned at a maximum speed of 400 min-1 (250 min-1).The time-consuming exchanging of the workpiece between different machines is now a thing of the past.
Trigonal milling head - Simply funky and ingenious
Due to the special arrangement of the A-axis, dihedral angles from 0° to +105° can be machined with only one axis. Milling with the trigonal head in the horizontal spindle position has the great advantage that X and Y-axes are continually loaded in the same direction. This reduces cross-stresses to a minimum.
Pallet changer system
Automation concept matched to the machine
The automation concept is based on years of experience from our own product portfolio. The solutions are space-saving and do not require an additional master computer. Thanks to the modular design, the machine can be expanded from the standard pallet with 2 tables to linear storage. The user-friendliness and the handling of the machine are not affected.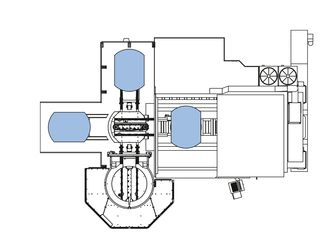 Energy Efficiency
Measures by our machine tools

Even in developing a machine, we look for components and elaborate solutions that make it possible to keep the consumption of expensive resources such as electricity and air in daily use as low as possible. This not only helps to protect the environment, but also minimise the daily running expenses. The most important measures to increase energy efficiency are the following:
Power regenerating drive systems
Chip conveyors with interval function
Coolant flushing with interval function
Automatically deactivating suction system
Automatic shut-down of auxiliary programs after the program cycle ends
Leaktight valve technology
Frequency-regulated coolant high-pressure pumps
Weight-optimised moving masses
Low-watt valve technology
Patented spindle drive concept DDT
Consumption-optimised pneumatic system
High-quality servo axes
Machine lighting with high-efficiency LED lights
Use of high-quality components with high efficiency
The use of polymer concrete as base material requires around 30% less primary energy than equivalent cast body. And even the CO2 share can be reduced by 66%. The disposal of polymer concrete, too, is uncomplicated, because as regular construction rubble it can be recycled for new filling materials or soil stabilisation.
As a producer of machines with a single production location, a high level of own production and local supplies, we are able to reduce transports to a minimum. At the same time, our machines have a long service life, which adds to the overall positive balance.